Member
Posts: 2
Joined: Wed Jul 11, 2018 8:07 pm
Points: 250.00

Has thanked: 4 times
Been thanked: 3 times
https://www.newgrounds.com/portal/view/713528
Play as Pik, a little ninja who seek the monster that destroyed his village, with exciting bosses and power-ups!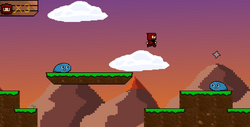 These users thanked the author PikBomb for the post (total 3):
---
Member
Posts: 5
Joined: Sun Jul 01, 2018 12:33 pm
Points: 310.00

Has thanked: 5 times
Been thanked: 4 times
This game is polished, and is quite fun to play. I think your game deserves way more attention than it has right now! Great work!
Member
Posts: 5
Joined: Tue Jul 10, 2018 8:31 am
Points: 290.00

Has thanked: 3 times
Been thanked: 2 times
nice level one (maybe too easy, "game is a little slow" ? and nothing new
)
Level 2 : don't understand jump + "D"
---
Users browsing this forum: No registered users and 0 guests