I'm aware of how left-field a topic like this is, but every time I go grocery shopping I pay close attention to the fruits in produce. In general I like normal fruits for the most part -- strawberries, bananas, watermelon, tangerines, etc (although I don't like apples very much). Of course I get whatever normal fruit I would get, but I usually see something new each time when I look. As bizarre as it is, I want to talk about fruits that surprised me with their existence. There are different fruits all over the world, and I get that -- but I've been around for a while and there are some fruits that I get that I've never seen before. A few of them are alterations of regular fruit, but not all. I won't be including Dragonfruit because I think most people are familiar with that. If you haven't seen it, you've definitely heard of it.
Let's begin.
PEACHES
-- there are the common yellow peaches as well as white peaches. I much prefer the white peaches in every way, they're way sweeter and more appealing to my eye.
If you haven't seen the difference, here you go. HOWEVER, this isn't why I brought up peaches. These are the two main types but the other day I saw really peculiar looking peaches and had to buy one out of curiousity.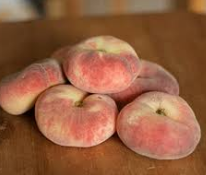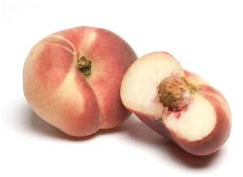 If you can't tell, this peach is flatter and looks kind of similar to a white peach. They're barely fuzzy, it's cool. This is called a "Saturn Peach" or a "Donut Peach", and its flesh is really pale. It taste pretty close to a white peach, but there are differences. Have any of you seen these? I asked the cashier what they were called because there were no tags, and she didn't tell me.... but I saw on the screen what it rang up as. I was like "Woah that's crazy, have you ever seen that before" and she said "Yes...." as if I had asked her if she's ever had an apple. Nobody I had spoken to has seen this though.... so I don't know what her problem was. Wikipedia said that they were popular in the 90s, which makes
total
sense -- and I'm going to assume that's how she knows of this fruit.
KIWI
-- Kiwi is a classic and it was once one of my favourite fruits. In fact, I was even down to eat that
fur
fuzzy skin. For those who don't know for some reason, kiwis are intensely green. A couple years ago some kiwis caught my attention and I've never looked back.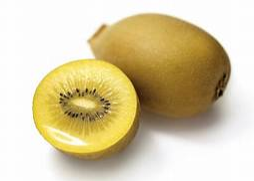 WOW, a gold kiwi, it's beautiful.
They are called "Sungolds", and the skin isn't even really fuzzy. It's a lot less bitter (although that's part of why I liked regular kiwi), it's got a tropical sweetness to it and it's really really good. Please tell me, have you seen golden kiwis? I didn't until two years ago and I would get regular kiwis all the time. Crazy.
KIWANO (HORNED MELON)
-- Uh this intrigued me just because of the appearance. I was specifically looking for foreign fruits, and while this is
now
grown in my country, it originates from Africa. This one wasn't that good to me, it tasted like cucumber and banana combined. It's got green jelly inside and you just eat the seeds (which are surrounded in the aforementioned jelly). Oh, and it's heavily spiked. Again, not my thing.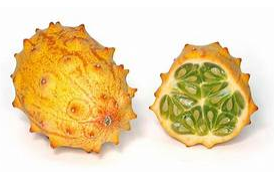 STARFRUIT
-- From what I know there's both small sour versions of these, as well as big sweeter ones. While you can just eat this whole, it looks really nice when you cut it. The cross section is a star. I might give this another chance because I didn't know that there was a bigger sweeter one!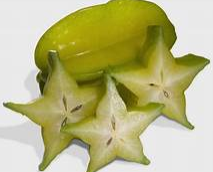 PLUMS
-- Plums used to also be one of my favourites, I totally forgot their existence for a number of years and then just recently I've started buying them again. It's been a while since I've seen
purple
plums, but I know they're around. The black plums with ultra dark flesh are the ones I've been seeing most.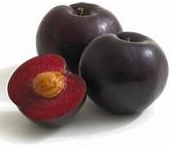 BUT THEN..... I saw a sign that said "Red Plum", and of course I got curious. It's so much sweeter and softer than a black plum. Additionally I think it looks really good.
It is my plum go to, I no longer care about the others (Although I've read there are
golden
plums.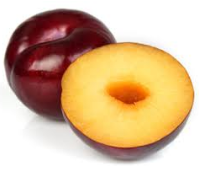 This is the white peach of plums.
Lastly I want to touch on a fruit that I think it just okay.
APRICOTS
~~ This title is actually a little misleading. When I was at the store, I saw blue apricots and it simply said "blue apricots", but I read online that these are a sort of "pluot" which is a cross breed of plum and apricot. This one is really sweet and pretty! It looks very similar to a red plum as well, but I assure you it's not.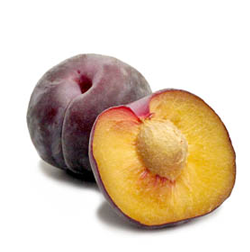 That is all I'm going to mention for right now, but there's a lot more I want to be seen talked about, like Mulberries. What exotic fruits have you tried, and which are your favourite? I don't want to see much discussion about average fruit.